Ready To Launch!!
After onboarding close to 2,000 agents in our career, we know you need to have a super simplified walk through that sets you up with everything you need to keep your business in full motion and all in one easy to access place. Start at Step 1 and work your way through the process and you will have everything you need to launch!
Getting Started
Now that you are officially LIVE with eXp Realty, there are a lot of resources and platforms you will want to link to right away to keep your business moving! eXp's Guide has mapped out exactly what to do in your first few days to set up their platforms. Click the Guide link below to get started!
LIVE Onboarding Class weekly on Tuesdays!
With everything eXp Realty and CoFounders provides, we have a LIVE Onboarding class that is held every Tuesday at 12:30pm PST / 2:30pm CST / 3:30pm EST to guide you through what you NEED to know, what you NEED to have access to and where to go to for what. Join the link on the next Tuesday after joining! Bring your questions!

Step 1
Announcement
Now that you are officially LIVE with eXp Realty, it's time to let everyone know! And get all of your marketing materials in place. Please email the details listed below to blair@cofoundersgroup.com and marketing@cofoundersgroup.com, so your support team can start putting these together for you asap!
Headshot / Photo – Send a professional headshot. If getting new one done, please provide a great picture for now!
Bio/Your Story – We will be incorporating this into some of your marketing materials that will be put together for you
Birthday – For our Internal use!
Home Address – For Internal knowledge only and to track areas for announcements and referrals

Step 2
Facebook Groups
As a virtual community, we leverage our private Facebook groups to share and access live trainings, systems, announcements and updates, live events, real time agent community for real estate questions and support. Make sure you have joined our private groups immediately to be plugged in.
Your sponsor has the ability to invite you into the groups, as you have to be friends on Facebook first in order to be invited in. Then an Admin of the group will approve you.
If you don't have access yet, click the live link to each below to request access NOW directly.

Step 3
Signs / Business Cards / Marketing Materials
Do you need yard signs? Open House signs? Business Cards? Custom Marketing Materials? Get all of these ordered and set up asap to utilize in your Business!
We have an internal CoFounders group Graphics Designer that is available to support any requests or needs at no cost. If you want to re-brand, create a new design or logo, customize personal materials or re-brand them for you, or create anything brand new – Send the request with specific instructions to marketing@cofoundersgroup.com. Michael will put these together for you. He is a built-in resource to the team!
Business Cards — Get your business cards ordered asap. You can have them custom created by Michael above, or use any of the provided templates in eXp's Market Center. You will need your expenterprise.com logins:
Yard Signs – Contact marketing@cofoundersgroup.com for custom designs and existing designs that you can take directly to any local manufacturer to order! Or go directly to eXp's partners at Build a Sign to order your signage asap!
Personal Marketing Materials — Michael will be sending you automatically. Contact him directly for requests at: marketing@cofoundersgroup.com
Email signature
eXp logos
Listing Marketing Package
Announcement Notice
Marketing Center – eXp's Marketing dashboard with templates for all print and digital resources you will need in your business

Step 4
Navigating Your Way Around
eXp Back Office Quick Intro >> Main resources you will use now inside of eXp
CoFounders Training Introduction >> What each class is designed for and how we help you grow! Knows what's available!
eXp World >> How to navigate your full-service virtual office

Step 5
Seller Data & Prospecting
If you are looking to generate seller leads you will want to plug in here asap!!

Step 6
CoFounders Training Calendar
Every training session is held live and recorded and archived in the CoFounders Facebook group and cofoundersgroup.com Learning Hub. Plug in to where your business needs growth!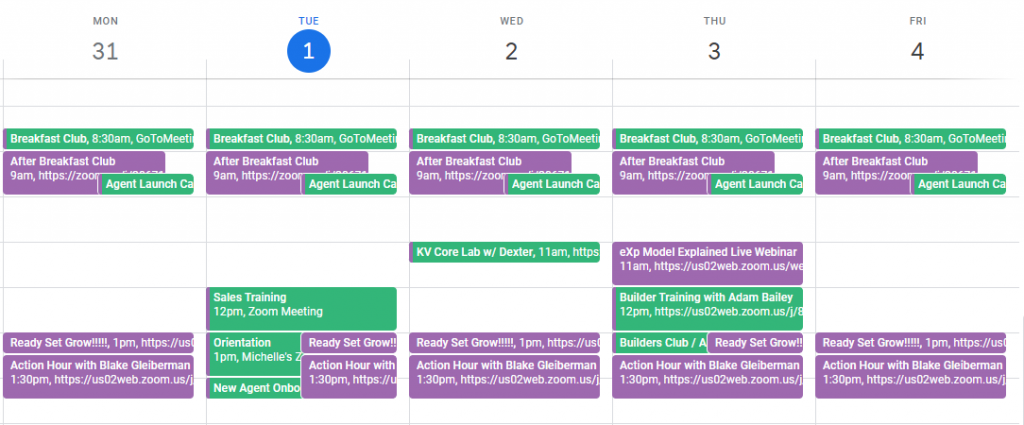 Add the CoFounders Google shared calendar to your desktop and mobile by clicking the link below. Most compatible with Gmail.

Step 7
Lead Generation
KV Core — If you are looking to implement organic and custom Lead Generation into your business right away – Click the link below to set up live streams of incoming leads every day within a week!
Op City Lead Source – Call Center Live Transfers from Realtor.com — Plug in an instant, consistent flow of leads with no upfront cost. Live transferred to your cell with a referral fee on the back end.
Additional Lead Generation Companies with no upfront cost. You can set up multiple to create an active flow of incoming lead generation.
eXp exclusive Ready and Willing Buyers and Sellers. Click here to access eXp Relocation / eXp REO / eXp Military, and much more.

Step 8
Launch Call
Have you attended a launch call with Michelle Wilson and Chad Cooley?
We want to meet you and learn how we can align any of our support and resources into your business!
We hold an available time every morning Monday-Friday @ 8:30am PST / 10:30am CST / 11:30am EST. Join us at that time on the link below. This is an open time where we are available and will coordinate a separate one-on-one as needed!

Step 9
Building a Roadmap
We are big believers in planning your success! There are so many resources and support built in, we want to know how we can align with you to help you not only create that plan, as well as to reach that goal faster!
Click the link below to access the current Business Plan and fill it out to the best of your abilities. We will go over this with you!
If you can't measure it, you can't manage it! Use the Tracking Sheets linked below to measure your business!
Full digital Numbers Analyzer made easy for you to track all goals, numbers and ratios inside of your business!
Business Planning Session — Get yourself set up with a full walk through of creating your goals and plan for the year. Worked backwards into a weekly and daily plan!
Setting goals is an important part of the process – Click link below
Personal Monthly Nut Worksheet

Step 10
eXp & CoFounders Explained
You have an easy way to invite your potential prospect agents to meet Michelle Wilson who will explain the opportunity of the eXp model and CoFounders for you on a LIVE webinar!
This is emailed out weekly with in a flyer to the group every week!
Every Thursday @ 10:00am PST / 12:00pm CST / 1:00pm EST

Step 11
Explore eXp Realty
Here is a site that has details on our mission as a company, our core values, every resource, system, and partnership provided within eXp realty to learn about at your leisure now that you are up and running with your business.
60 Hours of live training, certifications, Cardone University all provided inside of eXp University!
eXp University On-Demand Library – Access 24/7 for all recorded classes!
Some major Partnerships that make a Difference!

Need Help?
If needing Broker Support, Transaction Support, Tech Support >> Go to eXp World for live service in any department >> Go to eXp World
Needing help on anything CoFounders >> Coaching, Training, Building your business — Contact support@cofoundersgroup.com
---